Southeast Asia Adventures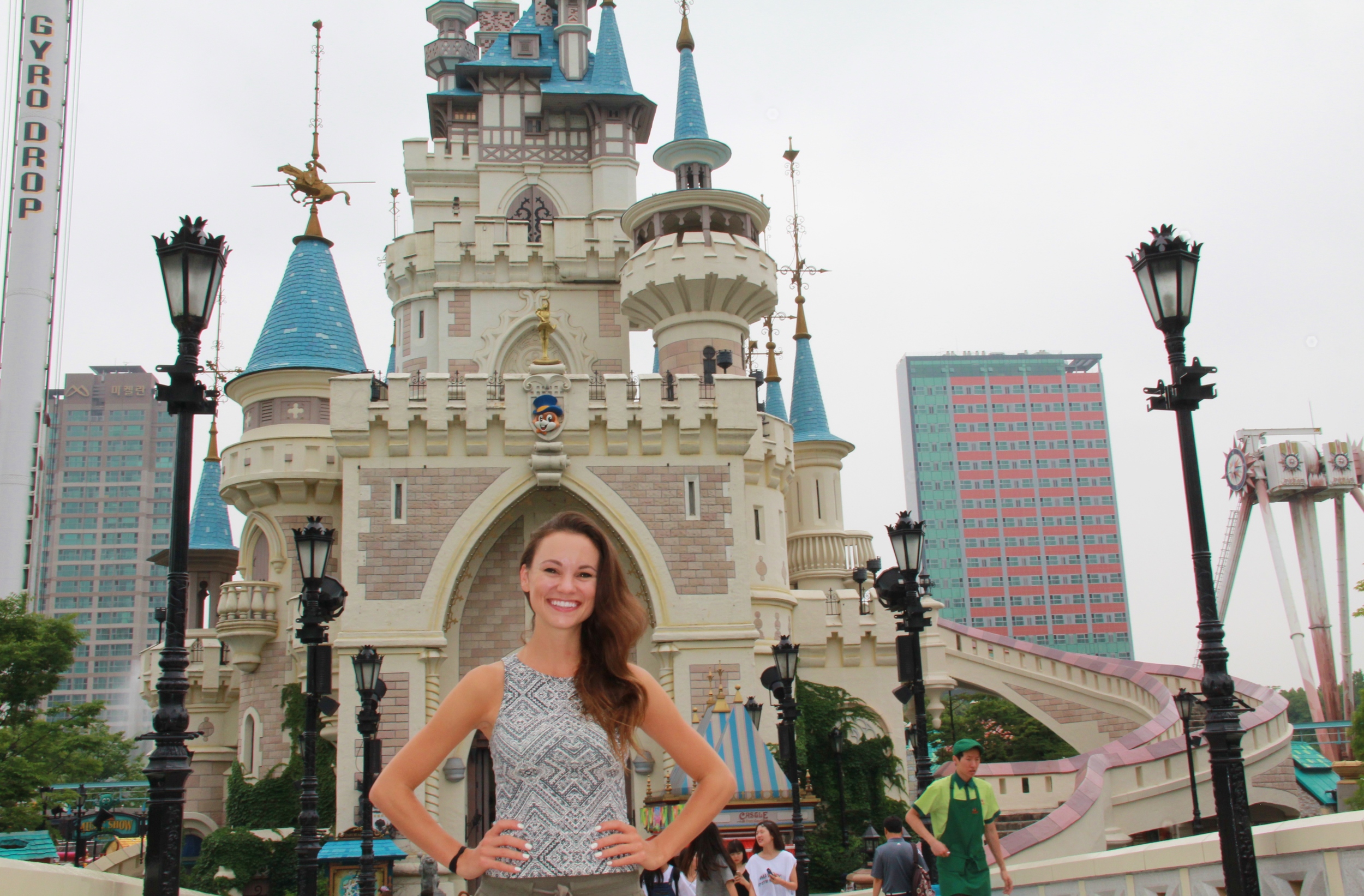 Recently, I spent about two weeks traveling through Southeast Asia, stopping in Thailand, Cambodia, Vietnam, and South Korea. My boyfriend was doing a volunteer trip in Cambodia and I used that as an excuse to see this beautiful, chaotic part of the world. Overall the trip was quite an adventure.
I typically compartmentalize vacations into two main categories: relaxing or adventurous. This was definitely the latter. Oftentimes adventure requires more effort. It can be trying and difficult, but you leave with better stories and more unique experiences. I like trading off between the two types of vacations because they both have their own trade offs.
When people ask about this trip specifically, the single experience that describes it the best is the part when I passed out from dehydration during a Cambodian circus. Uhm..I'll explain later.
Traveling through Bangkok, Siem Reap, Phnom Penh and Hanoi was hot, exhausting, and well worth it all. If I had to give quick advice to those traveling to this part of the world it would be:
1. In Bangkok, go to the rooftop bars
2. In Phnom Penh, check out the backpacker/hostel bars
3. In Siem Reap, go to Angkor Wat and Pub Street
4. In Hanoi, watch the water puppets, eat Pho, and take a weekend trip to Halong Bay.
And in each of these cities, drink plenty of water and try to stay at hotels that have pools. :)
If I had to give longer advice, well, let's start with Bangkok.
Thailand
We only had one weekend in this country so we had to be selective in where we traveled. Bangkok was our city of choice, although we wish we had time to see the famous Thai beaches to the south. My first impression of Bangkok was that it was much larger than I ever knew. It has a population of 6.3 million people (the largest city in the US, NYC, has 8.4 million). There were sky scrapers creating a skyline wherever your eyes could see.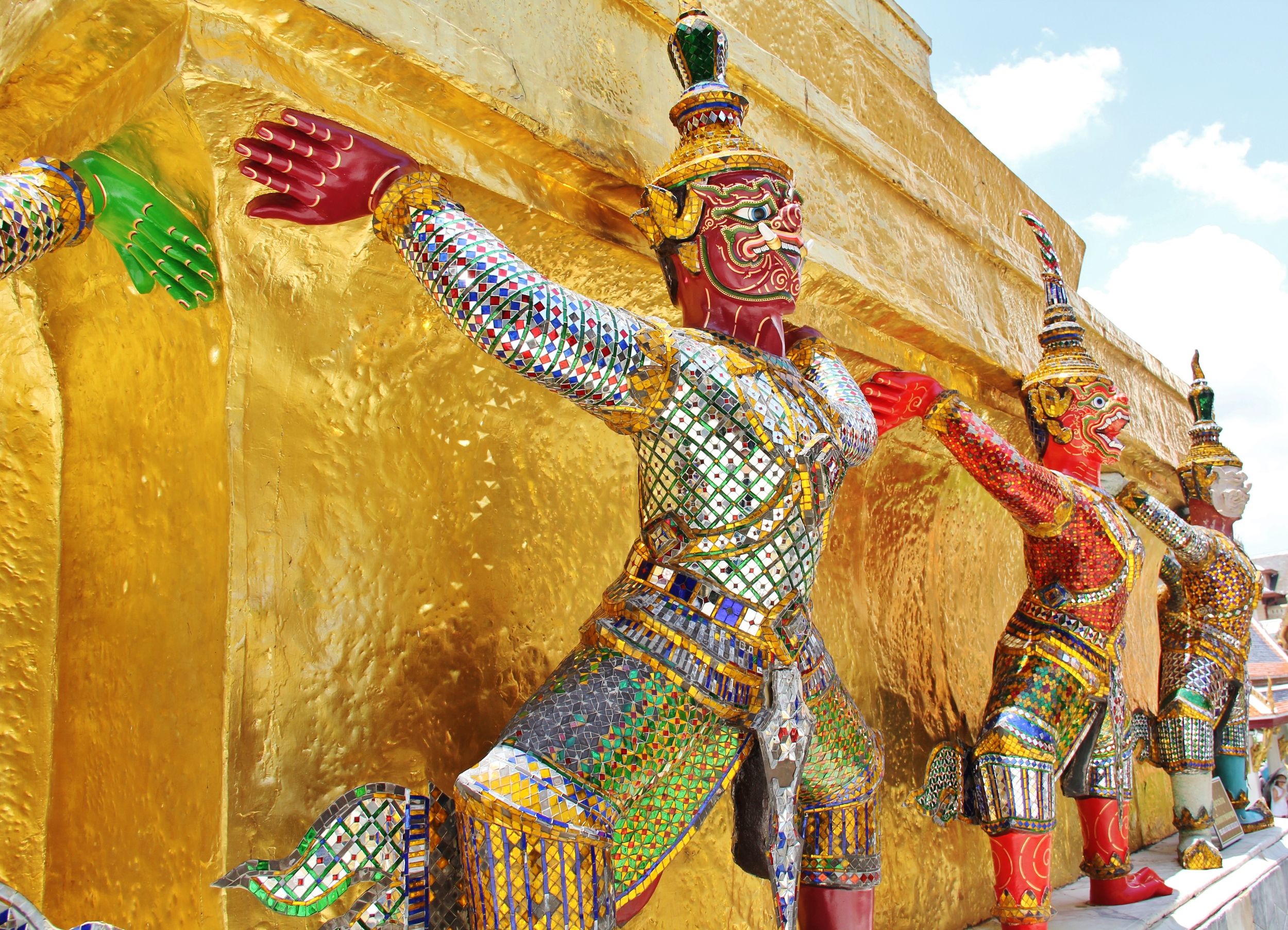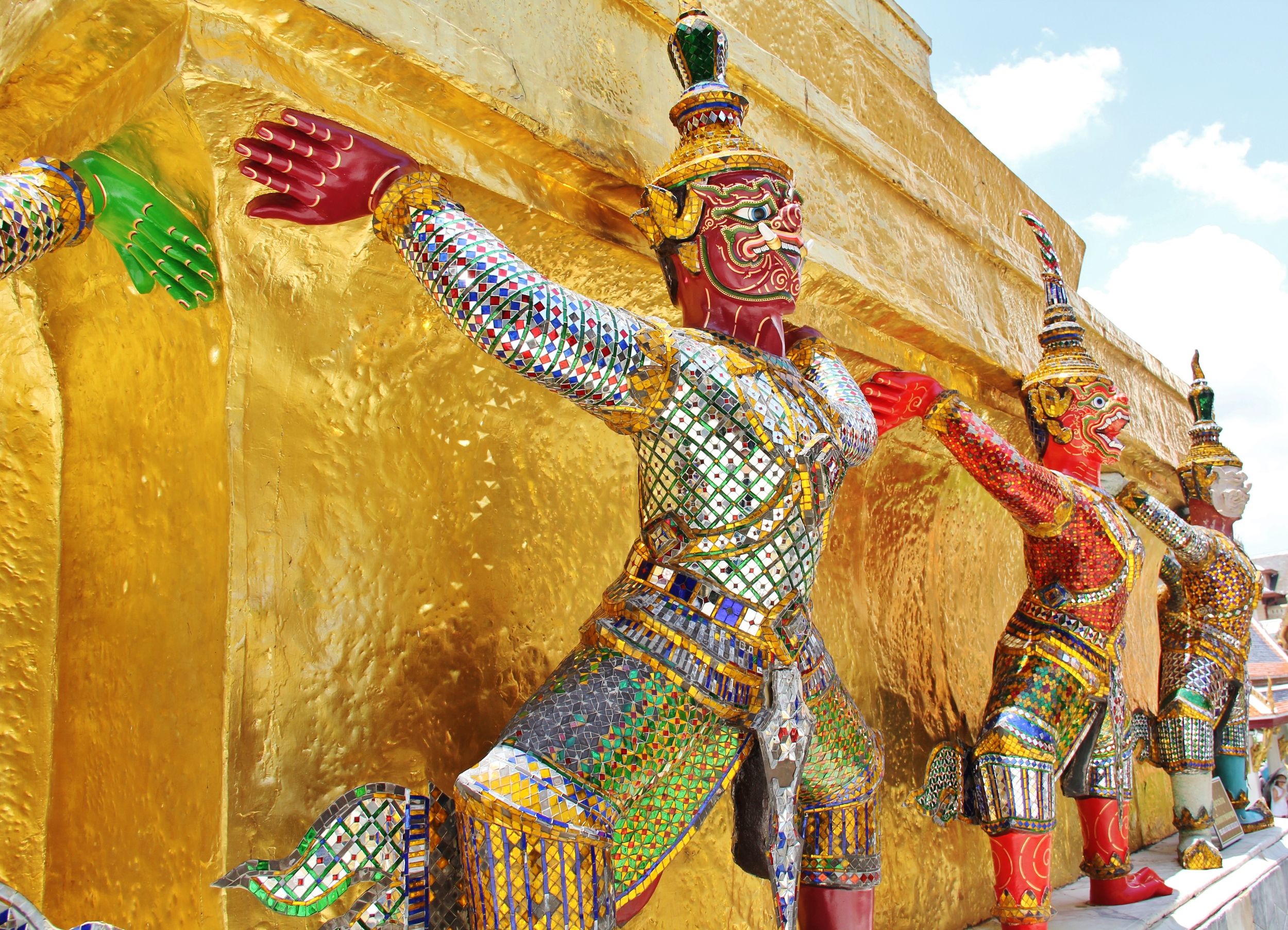 The most memorable thing about Bangkok for me was the colors. The Grand Palace and Wat Pho were beautiful and made for some seriously Instagram-worthy pictures. The food was amazing! My favorite was the Pad Thai (obvi) and the mango with sticky rice dessert (I wish they could come up with a more creative name for sticky rice, because it's much more delicious that it sounds!).
More than anything, you come to Bangkok for the nightlife. You must do two things:
1. Check out the rooftop bars (we did Cloud 47 – reasonable drink prices, amazing view): Look at a menu before you go to make sure it's in your price range. There are some impressively pricey rooftop bar options.
2. Go to Khao San Road aka "The Famous Backpacker Street": It's lively and touristy and amazing. It's a great place to shop, eat, and drink. You'll find all the other tourists here. Eat a scorpion. Or don't. Do what I did and just buy it for the photo op. Kinda sorta taste it once and then throw it away because it's obviously gross. No one eats scorpions because they like scorpions. No one.
Cambodia
Siem Reap
In Cambodia we visited the beautiful Angkor Wat in Siem Reap and the bustling city of Phnom Penh. Angkor Wat is a UNESCO World Heritage Site which is a complex filled with temples, and the largest religious monument in the world. Also, fun fact, parts of the movie Tomb Raider were filmed here!
We hired a Tuk Tuk (a Tuk Tuk is a carriage connected to a motorbike, used as a taxi service) driver to drive us in between each temple and spent about 30 minutes at each one. It was around 95 degrees when we were there and my boyfriend and I were sweating the entire time. It was tough to find motivation to decide to go to "just one more temple," but after we did, it was always worth it. We ended up seeing four of the main temples in the Angkor Wat area and they were all unique and enchanting in their own way.
When we arrived back to the Siem Reap town area we made our way to Pub Street for dinner and drinks. Everything in this area was pretty cheap compared to U.S. standards, which was awesome.
After dinner we went to the Cambodian Circus. The circus was filled with acrobats who performed impressive stunts while telling a unique story. It was like a mix between a play and a circus. At least that's the impression I had before I started feeling woozy.
Towards the beginning of the show, there was a woman who was walking in circles around the main circus arena. I was watching her go around and around and around. Soon enough my stomach felt like it was moving in the same motion. My eyesight began to blur and I felt like I was going to throw up. I looked at my boyfriend and said "Oh god, I'm going to be sick!"
What happened from there was, from what I recall, a cartoon-like event. I shakily stood up and tried to make my way through our aisle to the exit. In the process of leaving I knocked over my drink on the woman next to me (who, I can remember, exerted an audibly frustrated "khuh!!"), tried to balance myself on the elderly lady next to her and possibly shoved a small boy at the end of the aisle. I'm not proud of any of this. I am proud that I did not throw up on them. I'd like them to know that. It could have been much worse, people!
Once I finally left the circus tent, I collapsed into my boyfriend's arms. He brought me to the bathroom, and afterwards I chugged water like a maniac. That's when we realized I was likely severely dehydrated. I had been sweating all day as we ventured through Angkor Wat and only drank water when I was thirsty. Before the circus, we were on Pub Street, where we were drinking, but it wasn't water. What a dummy! Living in Boston all of these years made me pretty ignorant to the hydration needs of the human body. I'll never make that mistake again!
My only regret is that instead of living it up in Pub Street that evening, I had to lay down and chug water for the remainder of the night. After my recovery, we proceeded to take an overnight bus to the city of Phnom Penh.
Phnom Penh
Phnom Penh was definitely an adventure. Every five seconds a Tuk Tuk driver was asking you if you needed a Tuk Tuk. This could get on your nerves after a while. There were also young children coming up to you to try to sell little trinkets and bracelets. This was particularly sad because you knew those children should be in school but likely didn't have the ability to do so because of their family's financial situation. Certainly makes you appreciate your own educational opportunities.
The noodle soup here was amazing and the fruit smoothies were perfect. The markets were crazy and a beautifully chaotic experience. Grab a drink at a bar near the water and eat the fresh fruit when available.
While we were in the city, my boyfriend and I had the opportunity to speak to a Cambodian classroom. We spoke to them about engineering and space exploration. This was a wonderful experience because it showed how the concept of exploring our universe is truly a universal one. Each student had their own questions about and ideas for exploring our solar system.
In Phnom Penh we stayed at the beautiful Villa Paradiso. This was the perfect place to stay because it somehow found a way to carve out a little peaceful paradise. The pool was gorgeous and surrounded by luscious trees which made it look all the more exotic. After walking through Phnom Penh, a pool at the end of the day is a godsend. They had made-to-order breakfast every morning in a poolside cabana. Every morning I had my fair share of fresh mango, dragon fruit, watermelon, and pineapple.
The two things I would recommend doing in Phnom Penh are:
1) The Genocide Museum: The most memorable part of Phnom Penh, however, was the Genocide museum. Cambodia experienced an atrocious genocide between 1975 and 1979, from which it is still recovering. During that short time period it is estimated that between 1.5 and 3 million people died. The Tuol Sleng Genocide Museum is located at one of the prisons where the genocide murders had taken place. It was a very emotional experience because the murders were detailed so visually. A heart-wrenching activity that's necessary to have in order to better understand this atrocity that happened in Cambodia's recent history.
2) Backpacker/Hostel Bars: This is a fun way to meet others who have traveled to Phnom Penh and an easy way to find a party any night of the week. Our favorite was the Mad Monkey.
Vietnam
In Vietnam we spent most of our time taking a weekend cruise through Halong Bay. This is one of the New Natural Wonders of the World and a UNESCO World Heritage Site. It's also the place where you can pretend to be in a fairy tale because the views are ridiculous.
We took the Heritage Line Violet boat (though Asia Travel and Leisure) on a 2-day, 1 night cruise. Our room in the boat was like no other cruise room I've ever seen. It was huge with large windows throughout the bathroom and main room, and a balcony to the ocean. The design of the room was focused on constantly showing you the striking limestone islands you were passing by.
The first day on the ship we went kayaking through Halong Bay and came back to the boat to watch the sunset. We had a cooking class on the boat where we learned to make traditional Vietnamese fried spring rolls! I'm such a pro now! Later in the evening we had a beautiful meal and went out on the deck to enjoy the twinkling night sky, wine in hand.
The second day they had a Thai Chi at sunrise….but, uhm, we skipped that (see the "at sunrise" part). We enjoyed breakfast on the boat and watched out the window as we cruised back to port. The only complaint was that it wasn't a longer cruise.
We settled back into the city of Hanoi, wherein I have three recommendations for future travelers.
1) Hoa Lo Prison (aka "Hanoi Hilton" aka where Senator John McCain was kept as a war prisoner for five years). They explain how this prison was used over the years up until the Vietnam War. There's an entire floor dedicated to American Pilots who were kept there during those years. They even have John McCain's flight suit and parachute that he was wearing when he was shot down and captured. They have pictures on the wall depicting the "fair treatment" of their American prisoners. Amercians playing basketball! Americans setting up a Christmas tree! Americans playing cards! The entire museum makes it seem as if American POW's had an amazing time at the good 'ole Hanoi Hilton. As we know, this was absolutely not the case. Nevertheless, it was an educational experience to learn how the Vietnamese tell their story.
2) Eat/Drink at a Rooftop Bar overlooking the city: We loved Avalon Café Lounge. It was a perfect place to get traditional Vietnamese food with a perfect view.
3) Waterpuppets: The Thang Long Water Puppet Theater is a unique form of stage art that is associated with Vietnam's wet rice civilization and history. They've brought this show to over 50 countries and it's easy to see why. I've never seen anything like it. It's simply a puppet show in the water, but it's entirely entertaining. Throughout the hour-long show, you're constantly trying to guess how the performers are moving the puppets around.
South Korea
Not actually in Southeast Asia but I had a 20 hour layover in Seoul, so I'll tell you what I did! I'll first go ahead and say that my 20 hours in this city was nowhere near enough time to do it justice. The only things I had time to do was get a drink at a bar overlooking part of Seoul's never-ending skyline, eat some street food, and go to Lotte World. I'll focus my attention here on that last part.
Lotte World
Lotte World is apparently the largest indoor amusement park in the world! It's essentially Seoul's version of Disney World. And when I say Seoul's "version," I mean it's obvious that they copied all of the best Disney World rides for their park.
This made my time in the park really fun. Within the first 10 seconds of each ride, you could guess which Disney World ride it was based on. Oh, this is like the Buzz Lightyear ride, Space Mountain, Pirates of the Caribbean, Soarin'… etc. They even had their own Mickey and Minnie – like characters: Lotty and Lorry!
I was the only non-Korean there. I was also one of the only non-tween there. I didn't care. I love Disney and I love knock-off Disney. This was a great solo activity and I had a blast.
After a fun day at Lotte World, I began my 24 hour trip home back to California. I had a wonderful adventure in Southeast Asia. It was educational, beautiful, and delicious.